When you go traveling, no matter how adventurous you are, it is always nice to get back to a nice, warm, clean accommodation where you can relax and sleep peacefully. Hotels offer you that sanctuary and safety. 
The nicer your hotel room is, the better you can sleep and relax, and the more enjoyable your stay is; even if you don't plan on spending loads of time in your room, a nice hotel can make all the difference to your travel experience.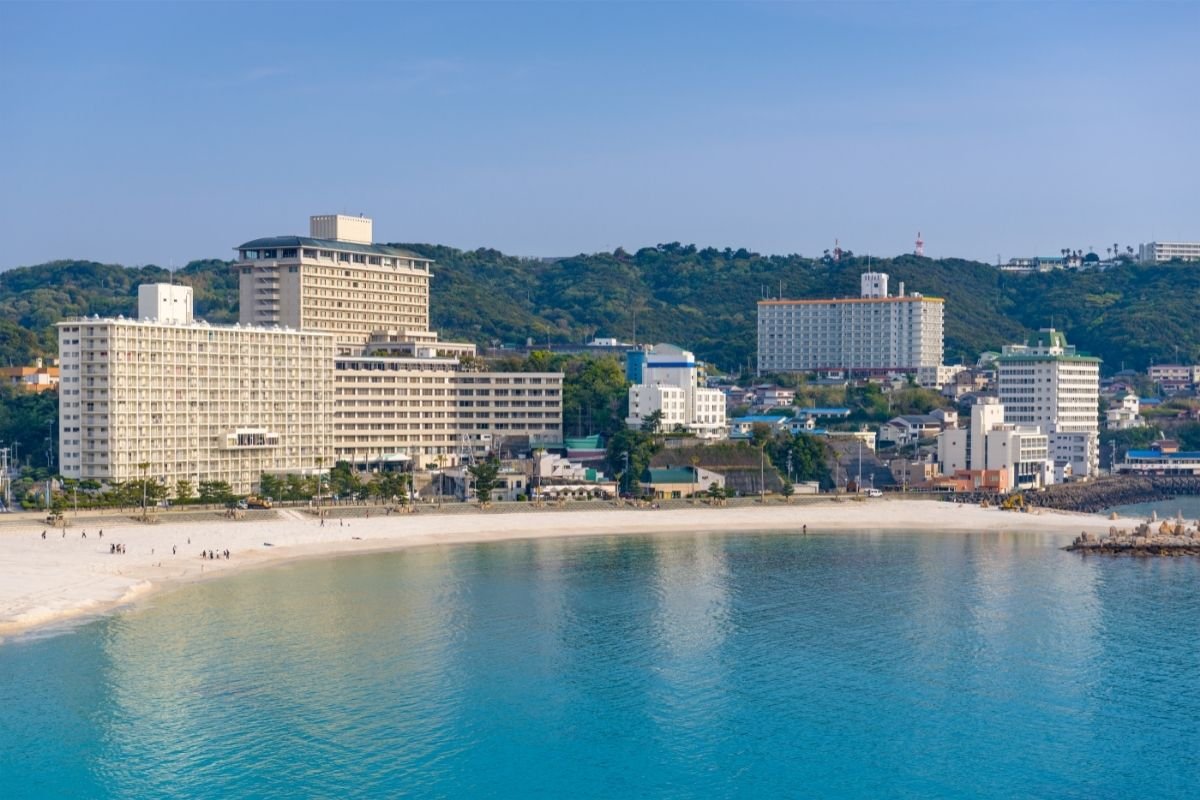 Wherever you are planning on visiting while you're in Japan, you'll want to find the very best hotels to spend your nights in.
Separating the great hotels from the mediocre ones can be a long and boring process, which is why we have done the research for you!
We have collated a list of what we believe to be the very best hotels that Japan has to offer. 
Take a look below at these gorgeous hotels, which are scattered across the country's finest cities and prettiest countryside locations. 
Let's kick off proceedings with the country's vibrant capital, where you can find this unique and stylish hotel in the neighborhood of Kagurazaka. 
This hotel is unique because it is more like a perfectly serviced house than a hotel. Instead of being a glamorous building packed to the gills with rooms and guests, this hotel consists of only one bedroom – the rest of the house comprises the living areas for its lucky exclusive guests. 
What used to be a geisha (see also, 'What is a Danna?') house has been converted into a sleek, modern salon, which is ideal for couples looking for a romantic haven. 
A soothingly minimal double bedroom is joined by a sleek dining room; a bathroom with a tub fit for a king; a small living room; and a peaceful room for tea ceremonies (see also 'What is Raku Pottery?'), which centers around a sunken hearth and floor cushions. 
The pièce de résistance of this place has got to be the unexpected and totally idiosyncratic disco room. Neon signs and illuminated floor panels carpet a tiny white room, where you will find a snazzy karaoke machine and where butlers will mix you any cocktail you like. 
That's right – butlers. What makes this house a hotel is the amazing service, provided by four butlers and two private chefs. No matter what the hour, or what the request, these wonderful staff members will be available to cater to your every desire. 
So, if you are looking for a slightly different hotel experience, wherein luxury is uncompromised, why not try Trunk House? 
On the exact opposite side of the spectrum, New Otani is a buzzing metropolis; it has almost 1500 rooms, and over thirty on-site dining locations! In fact, pretty much every facility you could think of is available at this gigantic hotel. 
On top of its five-star room service, New Otani also has a laundry service, a spa complete with a pool and a sauna, a hairdresser, a florist, dental services, a doctor, a post office, a supermarket, a tennis court, and its very own fitness center! Whatever you need during your stay, New Otani will provide.
Ever been on holiday and forgotten to get your pre-vacation trim? No problem; you can head to the hotel's hairdresser. Are you spending your anniversary at the hotel, but haven't yet got your lover a gift? 
Head down to the florist and buy them a spectacular bunch of flowers! And we weren't kidding about the thirty-plus restaurants and bars; you can choose from Chinese restaurants, Italian restaurants, steak places, French food, and countless bars. No matter what you are craving, you will be satiated here. 
Plus, if you don't love the idea of staying within the hotel's walls for your whole trip, there are hundreds of amazing local restaurants and shops all around you.
In terms of the actual rooms, New Otani does not disappoint on that front, either. All the rooms are spacious with modern interiors, and the beds are high in quality and comfort. 
If you can afford to splash out on an upper-floor room in the Garden Tower, you will be rewarded with astonishing views of the city. Whatever you are looking for during your stay at New Otani, you will find it. 
Located in the city's buzzing district of Higashiyama, The Four Seasons ticks every box imaginable. It is just around the corner from everything you want to see in the city, and is also situated next to a serene pond garden; it has the perfect mix of calmness and urban chaos. 
The entire hotel screams elegance and luxury, from its marble-clad lobby to its perfectly landscaped gardens. The rooms are meticulously kept and beautifully decorated. 
Dark wooden floors and deeply colored marble features give each room a cool and calming aura; simultaneously, traditional Japanese interior features shine through their modern setting, and give it a sense of depth. 
There are over 120 rooms at The Four Seasons, Kyoto, the best of which are the hotel's signature suites, which boast spacious balconies with views of the hotel's unadulterated gardens. 
For dinner, choose between the hotel's two exquisite restaurants: Sushi Wakon and The Brasserie. The former will give you the ultimate seafood experience, and renowned chefs will prepare delectable fresh dishes before your eyes. The latter resides on the first floor of the hotel, delightfully positioned alongside the garden. 
The Brasserie serves food throughout the day, and its sun terrace is the perfect spot to enjoy your breakfast on a mild morning. As well as its incredible rooms and dining options, the hotel also has a bar, laundry service, a spa, steam room, sauna, pool, and fitness center. 
Whatever the purpose of your trip, you will never run out of things to do at The Four Seasons, Kyoto (see also 'Where To Stay In Kyoto'). 
Amanemu, Mie Prefecture
If you are looking to escape the blaring lights of Japan's cities (see also 'Best Cities In Japan'), Amanemu offers a tranquil escape in the heart of the forests of the Mie Prefecture.
The hotel offers the perfect mix of surf and turf, having sea views along Ago Bay on one side, and scatterings of forests on the other. 
If you are a fan of golf, the hotel is surrounded by golf courses, where many guests spend their days happily. The rooms are minimalist, spacious and decorated with care.
High ceilings and glass doors give each room an airy feel, and sliding screens create a sense of fluidity, and hide the rooms' televisions. 
Most rooms also benefit from a large sun deck with comfy loungers, and a luxurious bathroom with a chunky stone bath. As if the indoor hot spring bath isn't relaxing enough, the hotel is also home to a spa that offers dozens of traditional Japanese treatments. 
From crushed pearl foot scrubs to deep tissue massages, you will be spoiled for choice and dazed by the quality of service at the Amanemu spa. Alongside the spa treatments, the hotel also offers the use of a pool, sauna, steam room, golf course and fitness center. 
Whether you like to stay active on vacation, or your trip is all about relaxing, there's something at Amanemu for everyone. 
Part of Hoshino Resorts, this stunning hotel is located in the small city of Ito, a couple of hours south of Japan's capital (for more small hotels, check out our guide here).
This hotel is the perfect escape for those who don't want to do much during their stay; aside from hiking trails, Ito does not have many activities to offer (see also '5 Beautiful Japanese Hiking Trails To Explore').
The hotel, on the other hand, is quite possibly the best thing about the city. It has the best views for miles around, thanks to being situated right next to the sea.
Its seaside view is reflected in the interior design of the whole hotel, and a maritime theme canvases each room. 
Paintings of beaches and the sea line the walls, and nautical ornaments are scattered on most surfaces. Balancing out the cutesy theme are the clean modern floors and granite walls, which prove that beauty often lies in simplicity. 
Each room is stylish and unique, and all of them have individual living areas separate from the beds. The rooms on one side of the hotel have floor-to-ceiling windows with unencumbered sea views, so try to nab a room on that side, if you can! 
Our favorite thing about these rooms is the granite-tiled bathrooms, each of which has a majestic walk-in shower. 
For food, the hotel's restaurant serves delicious meals throughout the day, all of which are a fusion of English and Japanese cuisines.
Expect lots of sushi and other seafood-oriented dishes, most of which are predominantly sourced from the local seafood market. 
If you want a seaside escape and a peaceful existence, hit up Kai Anjin for a few days of bliss. 
Final Thoughts
There are dozens of other spectacular hotels dotted around Japan, but the ones on this list are our very favorites. From city breaks to scenic stays, there is a hotel on this list that will have exactly what you are looking for. 
Latest posts by Aura Ruggeri
(see all)