Kyoto is the old capital city of Japan and it offers a glimpse at what life in ancient Japan was like.
Of all the cities in Japan, Kyoto is the most traditional with temples and shrines on almost every street corner you are constantly reminded of times gone by. 
Kyoto, like other cities, is divided into different districts, or wards. Each district has a unique feel and offers a different experience.
Some districts are more exciting than others and so to make sure you end up in a wonderful area in Kyoto we have put together a guide to help you see where to stay in Kyoto as well as the types of accommodations that are on offer to you in this stunning, ancient city.
Best Districts To Stay In Kyoto
Here we list the top 4 districts in Kyoto (see also 'What To Do In Kyoto') for tourists to stay in.
Southern Higashiyama
This district is home to the most traditional area in Kyoto, Gion. 
The lanes that scatter the streets of this district are perfect for an evening stroll as the traditional lanterns light up and you may even get to catch a glimpse of a Geisha as she disappears into the night.
Central Kyoto 
From the name of this district, you may be expecting bustling streets and expensive accommodations but the Central Kyoto district is actually a more affordable and quiet area of Kyoto. 
Visit the exquisite Nijo Castle and see the blossoming cherry blossoms in Kyoto Imperial Palace Park.
If you stay in this area be aware that you will have to take the underground frequently to get around but for some, it is worth it to experience the quiet side of Kyoto.
Downtown Kyoto
If you want to party and enjoy an evening of karaoke then the bright lights of Downtown Kyoto are the place for you.
The beautiful Pontocho area is in the district, filled with bars and restaurants that look out over the Kamo River. 
Downtown Kyoto has amusements, shopping, and more. Be sure to check out Nishiki Market to try some local cuisine and see market stalls that have been operating for hundreds of years, passed down within families from generation to generation.
Shimogyo-ku
If you are planning to do a lot of touring of the Kansai Region, which is where Kyoto is, then staying in this area would be perfect for you. 
The hub of transport, Kyoto Station, is located here offering train lines, bus routes, undergrounds and Shinkansen links to the rest of the country. 
Under the huge, glass station are hundreds of restaurants featuring cuisines from all over the world. Spend the day trainspotting or soaking up the sun on the rooftop garden.
Types Of Accommodation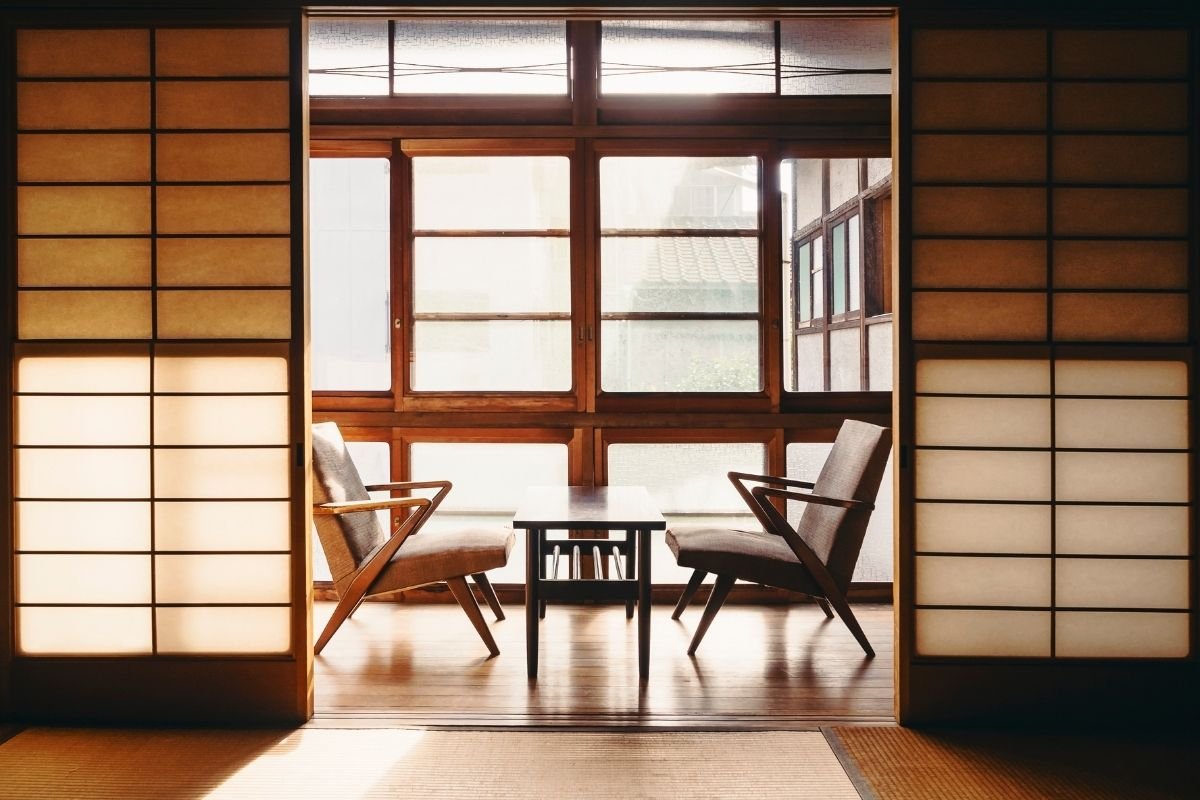 Hotels
There is a huge choice of hotels in Kyoto. Some western chain hotels can be found in the city, such as the Hilton, the Hyatt, and the Four Seasons. Most hotels are quite modern but they are finished with touches of typically Japanese decor. 
Hotels can range in price and may offer different amenities, such as pools, leisure centers, and spas.
The hotels in the heart of the city are considerably smaller than hotels on the outskirts as they have limited space, surrounded by shops, restaurants, and towering office buildings. 
Capsule hotels are hugely popular in Japan and offer a highly affordable way of staying in the heart of the cities. In Kyoto, there is a range of more up-market and budget capsule hotels but each offers a similar experience. 
With capsule hotels, you are simply paying for a bed. Bathrooms, locker rooms, and lounge areas are shared so your only private space is in your 'capsule'.
Capsules usually contain a mattress with bedding, a small TV, headphones, and sockets. Your larger items will be stored in a locker that is designated to you upon check-in. 
If you want to meet other travelers or just have a unique experience for a budget price then capsule hotels are a great way to do this!
Ryokans
Ryokans are traditional Japanese-style hotels and inns. Usually, they are filled with tatami mats so you remove your shoes when you enter the accommodation.
The guest rooms feature futon beds as well as typically Japanese furnishings that you would find in homes around the country. 
Prices can range from budget to luxury costs, it depends on the area as well as the amenities the hotel offers. A number of Ryokan hotels will offer large baths, similar to an Onsen, in the basement of the property. This can affect the price in some establishments. 
You can experience typical Japanese hospitality as well as local cuisines and cultures making Ryokans a great place to stay during your trip to Japan.
You can find Ryokans (see also 'Best Ryokan In Japan') throughout the country but Kyoto has some of the best and most popular Ryokans in the country.
Other Accommodations
Guesthouses, Airbnb's, and homestays are available all over Kyoto. Guesthouses usually offer a bed in a shared dorm or a single room.
These are often very basic accommodations run in family homes but they are a great way of meeting local people and learning about the local area. 
Airbnbs are common all over the world and so it is no surprise that they are also rife in Kyoto. If you want accommodation where you can prepare your own food and have a bit more space then an Airbnb may be ideal, particularly if you are staying for more than a couple of nights. 
If you would like to practice Japanese or offer chores in return for free accommodation a homestay may be suitable for you.
Homestays are when you stay with a family and help with work in the home, this could be tutoring the children, helping in the rice fields, or completing tasks. You then get to stay in their home for free and often you also get free food. 
Homestays can be either short or long term but typically they are in the suburbs of Kyoto, it can be difficult to find one in the heart of the city.
If you would like an authentic Japanese experience in rural Japan rather than the city, a homestay is a fantastic way of doing this.
Final Thoughts
On your trip to Kyoto, you can expect to be in awe of Japanese culture and how the past exists so perfectly alongside modern times. 
It is always worthwhile planning your itinerary before booking accommodation, you may find that it would be worthwhile staying in different districts throughout your trip to give you the best chance of experiencing all that Kyoto has to offer. 
With great public transport in place, it is easy to get around this large city from any of the districts named on this list so whatever you choose you will not be left stuck.
Visit the shrines, the bamboo forest, and enjoy an Onigiri while sitting on the banks of the Kamo River.
Latest posts by Aura Ruggeri
(see all)