Japan is an incredibly popular destination for people from all over the world, and for good reason. It is known for its natural beauty, unique culture, history, and innovative technology found in its huge cities.
But on top of this, you have to remember that Japan is an island, and as such, it is full of beautiful beaches!
The best thing about the beaches in Japan is that they are always clean and picture-perfect, with stunning waters and soft sand.
They're a popular escape for the locals, and also perfect for tourists to enjoy, all through the year but especially during the summer, so that you can go swimming! 
So if you're planning a trip to Japan (see also 'How To Prepare For A Trip To Japan'), and you're thinking of going to some beaches, keep reading. We've put together a list of some of the best beaches in all of Japan that we absolutely recommend visiting.
Along with some information for each too! 
Does that sound good? Then let's get right into it! 
1. Amami Oshima Island
Amami Oshima island is known for its stunning beaches, located between the islands of Kyushu and Okinawa. It is full of coral reefs, with views of volcanic mountains covered in green forests.
Truly picture-perfect! The beaches are secluded and quiet, with clean waters perfect for swimming and snorkeling. There are parking lots and public toilets, but that's about it. They are open from May to October. 
The best thing about the beaches on this island is that they are peaceful, with plenty of exploring available. The most famous beaches are probably Tommori beach, Kurasaki Beach, and Yadoribama Beach. 
2. Jodogahama Beach
Jodogahama Beach is located on the Rikuchu Coast, surrounded by white volcanic rocks and beautiful pine forests.
The name translates into "Pure Land Beach", and it is ideal for swimming, thanks to the crystal-clear water. It's great for those wanting a quiet atmosphere.
You can also find the Jodogahama Visitor Center near the beach, where you can learn more about the area, or book a tour to the Blue Cave!
3. Kamakura Beaches
The Kamakura Beaches are often regarded as the perfect summer escape, as they are located just an hour away from Tokyo.
They are only open from July to August, due to the climate in their specific location, but they're nearby and convenient. The downside, of course, is that they get pretty crowded, and tend to have lots of children. 
Nevertheless, they are beautiful, with views of Mount Fuji, and all sorts of marine activities available. The two most popular Kamakura Beaches are Yuigahama and Zaimokuza, both next to one another.
Zaimokuza, in particular, is often the quietest of all the Kamakura beaches, so keep that in mind if you want fewer people around! 
4. Kujukuri Beach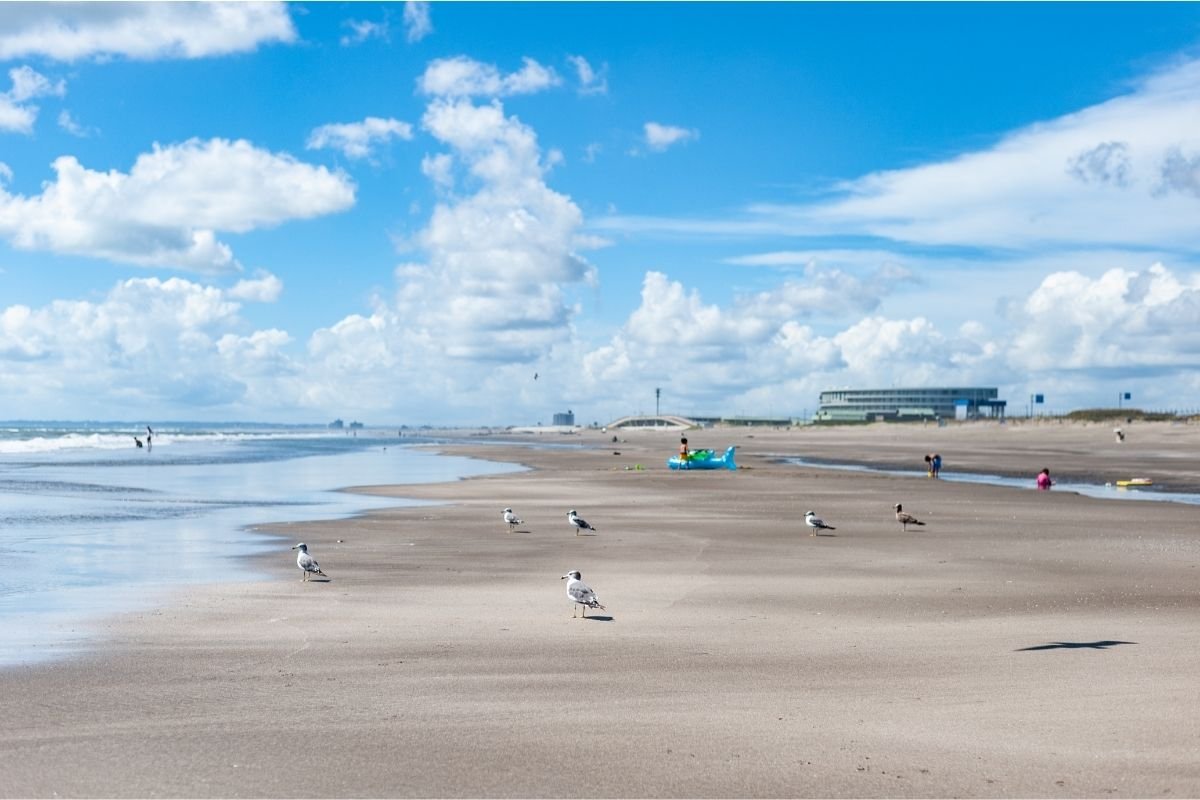 Kujukuri Beach is one of the longest beaches in Japan, measuring 60km in length. It is beautiful, with white sand, and open to the sea.
There is no reef on this beach either, so the waves are perfect for surfing, which is what this beach is most known for! 
This beach is ideal all throughout the summer, and is warm up until as late as October!
Just be warned that, despite its popularity and size, there aren't many amenities other than a few small shops and local restaurants, which might be a bit of a trek from where you are positioned. 
5. Miyako Island Beaches
The Miyako Island Beaches are some of the most beautiful in the country, popular for snorkeling, diving, and swimming.
They are open all year-round, thanks to the milder weather of their location, and they have plenty of water sports and activities available for locals and tourists alike. 
6. Odaiba Beach
Odaiba beach isn't pretty or particularly impressive, but we simply had to include it in this list because it is one of the most visited beaches in the country.
The reason, in case you are wondering, is because it is the only official beach in Tokyo! It is an artificial beach, located on Tokyo Bay. It is 800 meters long, and it is surrounded by all sorts of shops, cafes, and amenities. 
We wouldn't recommend swimming at this beach, but the sand is beautiful, and it's great for walking around and watching the sunset.
Plus, there are many different sporting competitions held on the beach during the summer season, as well as events during festive seasons. If you're in Tokyo for the day, it's worth stopping on this beach for a short visit! 
7. Okinawa Beaches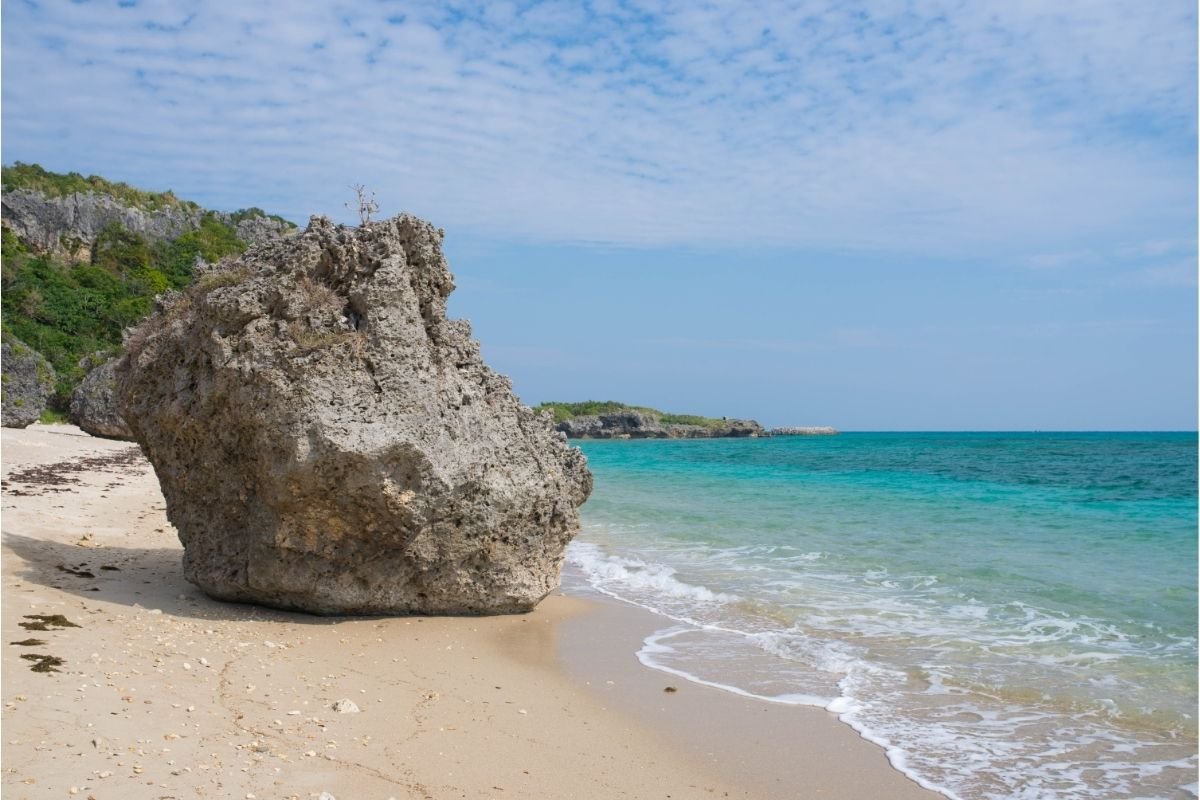 The Okinawa Beaches are one of the best beach areas of Japan, full of coral reefs and picture-perfect waters.
Not to mention that these beaches have the longest open season in Japan, as they can be enjoyed from March to October, and some even stay open throughout the rest of the year! 
Most of the popular Okinawa beaches are ideal for snorkeling and diving, and some of the more remote ones are perfect for a quiet atmosphere, away from the crowds. 
Some of the most notable Okinawa beaches are Manza, Cape Manzamo, Emerald Beach, and Kouri Beach.
8. Shirahama Onsen
Shirahama Onsen is a very popular resort in which you will find one of the most famous hot springs in Japan. And on top of that, you will find Shirahama beach, 700 meters long with soft white sand.
It is a beautiful destination for those wanting the best of both worlds, beach and open-air baths.
During July and August, the beach becomes incredibly crowded, as it is a highly popular destination and there is a lot to do in the area, so be warned!
However, you can find a few smaller beaches nearby that are quieter, if you really want to get away from the noise. 
9. Tsunoshima Island
Tsunoshima Island, connected to the mainland by a huge and iconic bridge (1780 meters long!), is a small island of 4 square kilometers, known for its beautiful waters and beaches.
The main beach is a bit of a walk away from the parking lot, but it is more than worth it. If you do visit, we recommend having everything you need, as there are no amenities there! 
And if you want something more comfortable, you can visit the beaches on the north side of the island, where you will find barbecue areas and some basic amenities.
There is a lot of potential for exploring, with small hidden beaches almost everywhere on the island! 
10. Zushi Beach
Zushi Beach is the closest natural beach to Tokyo, making it incredibly convenient. And, surprisingly, it's often pretty quiet!
The reason why locals don't often go to this beach, making it less crowded, is that it used to have a terrible reputation.
It is located next to a US military base, meaning it was always very noisy due to late-hour gatherings from the soldiers.
Nowadays, however, there are plenty of restrictions in place that limit the noise, and it's especially ideal for watching the sunset in peace! 
This beach also has some cliffs around, and plenty of cafes and restaurants. During July and August, it becomes a little more crowded, due to people coming along to enjoy the waves. 
Final Thoughts
These are just some of our favorite beaches in Japan, but trust us when we say that there are plenty more. Most of them incredibly beautiful and worth visiting!
Just remember to always check what kind of amenities to expect, as well as when each beach is open throughout the year, just so that you know what to expect beforehand! 
Latest posts by Aura Ruggeri
(see all)