Japan is a country full of rich history and plenty of relics from its very long past.
Pretty much anywhere you visit in Japan, you will find a museum, a landmark or some kind of historical site that shows you a little bit about the history of this amazing nation.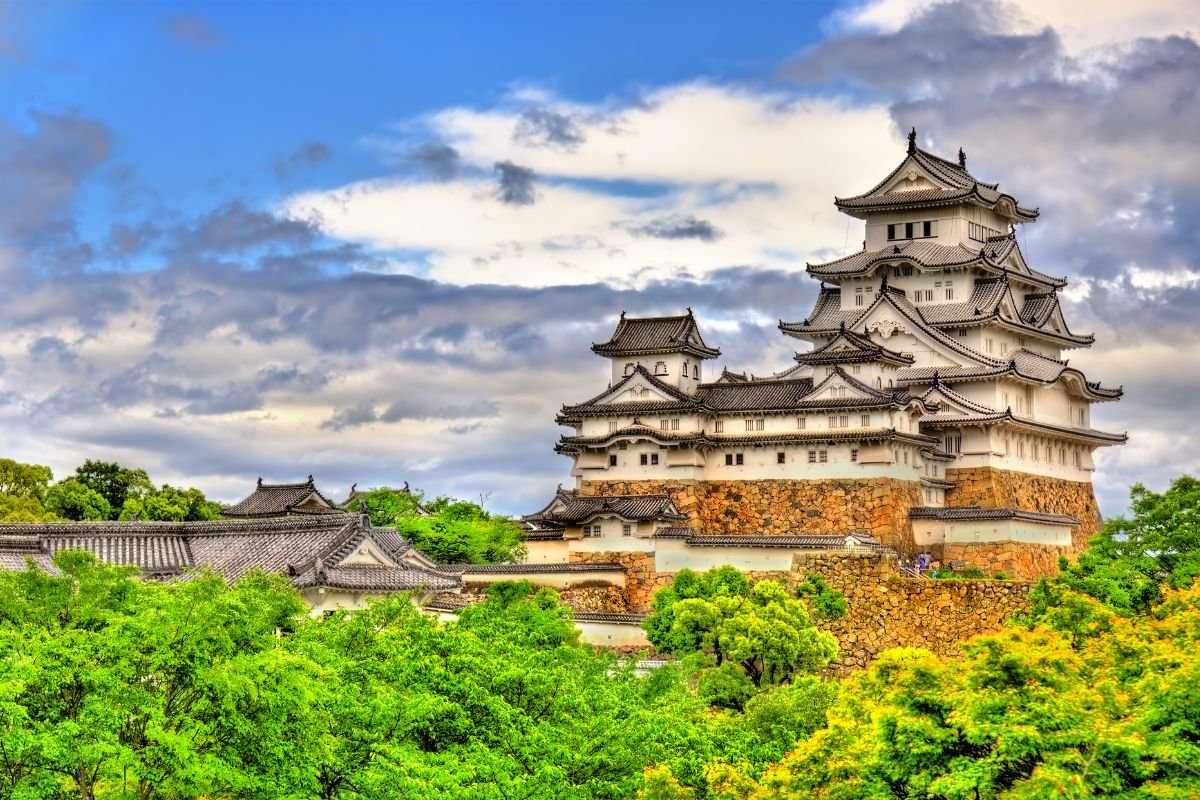 Of course, one of these historical relics is a castle and Japan has a lot of them scattered around the country, with its unique architecture and breathtaking surroundings.
But what are the best castles in Japan?
Well this guide looks to answer this question and a lot more. We'll show you the best castles in Japan and give you the answers to some of your most important questions. 
Ready to learn more? Then read on and discover the answers.
Japan's Best Castles
Let's kick off this guide with Japan's best castles! Each one is full of history and a unique beauty.
This majestic castle was originally built sometime in the 1580s and during this time, it was considered the largest castle in the country.
It was during this century that the surrounding area was habited by the wife of Japan's ruler. 
Nowadays though, Osaka castle and its park are one of the most popular places to visit for its cherry blossoms – which you can even see from the observation platform from the castle, which overlooks all of the city.
While you're here though, you should definitely look in the castle's museum of history which includes a lot to see. One of the best is the 3D holograms and other technological uses for their exhibits! 
Opening Hours: 9am to 4:30pm 
Address:  1-1 Osakajo, Chuo-ku, Osaka 540-0002, Osaka Prefecture
Directions: City buses are available from Osaka Station, but it's less than a 5km walk from there 
This beautifully crafted castle is also referred to as the "crow castle", likely down to its color and overall look. This castle was constructed around 1597 and made in the Azuchi-Momoyama style. 
During the Second World War, the original structure was destroyed, but during the late 1960s it was rebuilt to its previous design. 
You can find this amazing castle on the Asahi River, which acted previously as a natural moat and just outside, you can walk around the Korakuen Gardens, which have been described as some of the most beautiful gardens in the world.
Opening Hours: 9am to 5:30pm 
Address: 2 Chome-3-1 Marunouchi, Kita Ward 700-0823, Okayama Prefecture
Directions: You can get to this castle via a tram from Higashiyama Line to Shiroshita, and from there it's around a ten to fifteen minute walk. Other than this, it's around a thirty minute walk from Okayama Station. 
This picturesque castle is sometimes known as the White Heron castle due to its white, pristine condition and appearance.
The castle was originally erected during the seventeenth century and it actually was granted a UNESCO World Heritage status in 1993. 
This made it the first castle in Japan to receive this honor!
Aside from its historical and cultural importance, it is surrounded by absolutely stunning scenery, perfect for anybody looking to spend a few hours in tranquility and peace.
Opening Hours: 9am to 4pm 
Address: 68 Hommachi, Jimeji 670-0012, Hyogo Prefecture
Directions: You can get here using the Sanyo Shinkansen line to Himeji Station and then leave through the station's north exit. It's only around 1km to walk from there to the castle.
Right in the center of Kyoto, this glorious castle is now a World Heritage Site and was originally built and designed by a shogun – which is likely why it has the appearance that it does, and the inclusion of creaky floorboards to alert others of nearby enemies. 
It's a really striking castle and the setting is powerful. It's absolutely a place to visit if you want to see an example of excellent Japanese architecture.
Opening Hours: 8:45am to 4pm
Address: 541 Nijiji-cho, Horikawa-nishiiru, Kyoto 604-8301, Kyoto Prefecture
Directions: You can easily get here from Kyoto Station by bus or using the subway. If you're traveling by bus, be sure to use the 101, 9 or the 5. 
If you choose the subway, you have to take the Karasuma Subway Line to Karasuma-Oike Station and then switch to the Tozai Line to reach Nijojo-mae Station. 
This castle has some of the most impressive architecture that you will possibly find in the entire country, but arguably its best quality is the surrounding area.
With some glorious views of the mountains and nature – it's a place that everybody should head at least once.
The entire area feels tranquil, and during calm, sunny days, the feeling of peace with the sights and aromas of nature cannot be easily replicated, or indeed explained adequately. 
Opening Hours: 8:30am to 5pm 
Address:  4-1 Marunouchi, 390-0873, Nagano Prefecture
Directions: The easiest way to get here is to walk from Matsumoto Station, and it will take you about ten to fifteen minutes
This intriguing castle was finally constructed during the 1620s and it took over two decades to do so. Originally, it was a place for feudal lords and this continued until the late nineteenth century.
It has a regal overtone to it and can be somewhat imposing at times. However, the nearby surroundings and beautiful scenery of nature detract from the seriousness of the architecture, which gives it plenty of uniqueness. 
Opening Hours: 8:45am to 5pm 
Address: 1-1 Konkicho, Hikone 522-0061, Shiga Prefecture
Directions: It's also pretty simple to get to this castle. Just walk from Hikon Station right along the main road, and this will take about fifteen minutes. 
Within the idyllic Hirosaki Park, you will find one of the most amazing castles in all of Japan. Originally constructed by the Tsugaru Clan in 1611, this castle was rebuilt in the 1800s due to a lightning strike in 1627 which burned it down. 
Whilst the rebuild is a smaller remodeling of its original counterpart, there are still plenty of original areas and features from the seventeenth century like the three story castle tower, castle gates and the fortified moat. 
Opening Hours: 9am to 5pm (7am to 9pm during the Sakura festival)
Address: 1 Shimoshiroganecho, Hirosaki 036-8356, Aomori Prefecture
Directions: It's a fifteen minute ride from Hirosaki Station by using the Dotemachi Loop bus and then you have to alight at hiyakusho-mae bus stop. 
The History Of Japanese Castles 
Japanese castles evolved and grew from the original wooden structures and moved into much more powerful structures that we see in the fifteenth century and onwards. 
The idea behind most of the castles is simple and essentially shared that of European castles – defense, intimidation and strategic control during battles and politics – indeed acting as areas for governance. 
In later years, castles served as a place for the feudal families to call their home – which also struck fear into others through the huge amount of defensive areas and protection from guards. 
Many of these castles have become World Heritage sites now and some were reconstructed throughout the years.
The vast majority of the castles though have beautiful scenery settings and are excellent to visit for historical learning and simply to get some peace. 
Castle Structure 
There are many similarities and differences between Japanese and European castles in terms of their structure.
For example, castle walls were only for the protection of the castle compound and those within it, rather than acting as a city or town defense. 
This of course differs from the European structure, which largely defended the surrounding areas and protected the town or city's inhabitants. 
While this is debated with historians, many believe this was a sign that the people did not fear any invasion or attacks.
Japanese castle models had a tendency to sway towards the use of tile-roofs too, which was not seen so often in European architecture. 
Sections of many Japanese castles were offered to those based on rank or status, which is similar to some castles in Europe – but generally no peasants or commoners were allowed to enter the walls of the castle at all. 
What To Remember When Visiting A Castle 
If you are hoping to visit some of these castles, it's always a good idea to plan ahead in terms of transport.
However, you should also check if there is a festival around the time you are hoping to visit, which could affect the opening hours. 
Moreover, many castles are free to visit – but some places may charge a fee, so it's also a good idea to check this before you go too.
Final Thoughts 
Japanese castles are among some of the most glorious sights in the world, so it's always highly recommended to visit as many as you can! We hope this guide has been helpful for you.
Happy travels!
Latest posts by Aura Ruggeri
(see all)