Mt Fuji is Japan's most iconic landmark. Sitting an astonishing 3,776 meters above sea level, not only is it the tallest mountain in Japan, but it's also an active volcano.
Commonly called Fuji-san The breathtakingly beautiful mountain peak has been the subject of numerous paintings, wood prints, and other forms of artwork for centuries.
Each year travelers from all over the world flock to Japan to get a glimpse of Mt Fuji. As one of Japan's three sacred mountains, summit hikes are one of the most popular ways to see the beauty of Fuji-san up close.
But what if you don't have time to make it out to the mountain itself?
Luckily, if you're in Tokyo you can catch a glimpse of the solitary volcano without leaving the city walls! Mt Fuji can be seen from countless spots in the surrounding regions, with each region offering a unique perspective. 
On some of the clearer days, the white-capped mountains can be seen from hundreds of kilometers away.
However, the peak of the mountain is often obstructed by clouds. So, for the best chance of seeing Fuji-sun in all its glory, we recommended looking to find the mountain in the early mornings or late afternoons.
Interestingly, during the winter months is when you'll have the best view, especially as Mt Fuji's snow cap is typically visible from November until May. 
In this guide, we've picked out some of the best spots that you can see Mt Fuji from in Tokyo city. So, if you're visiting Tokyo make sure you visit one of these places so you can catch a glimpse of the beautiful Fuji-sun!
The Best Places To See Mt Fuji From Tokyo 
Here are some of the best places to see the magnificent Mt Fuji from Tokyo itself. The best part? Most of these spots are completely free to visit!
Tokyo Solamachi 
Solamachi is an enormous shopping mall that is attached to the tallest building in Tokyo: Tokyo Skytree.
If you're heading to the observation decks at the top of Skytree you're sure to see Mt Fuji, however, if you're just heading to Solamachi for some shopping or dining you can still catch a glimpse of the mountain. 
Just head to the 30th floor – the restaurant level – and you'll get a spectacular view of Fuji-san and the city of Tokyo itself.
There are several benches which you can sit at and take in the stunning views around you, but make sure you visit on a clear day, or the likelihood of seeing the mountain will be quite slim. 
Meguro Sky Garden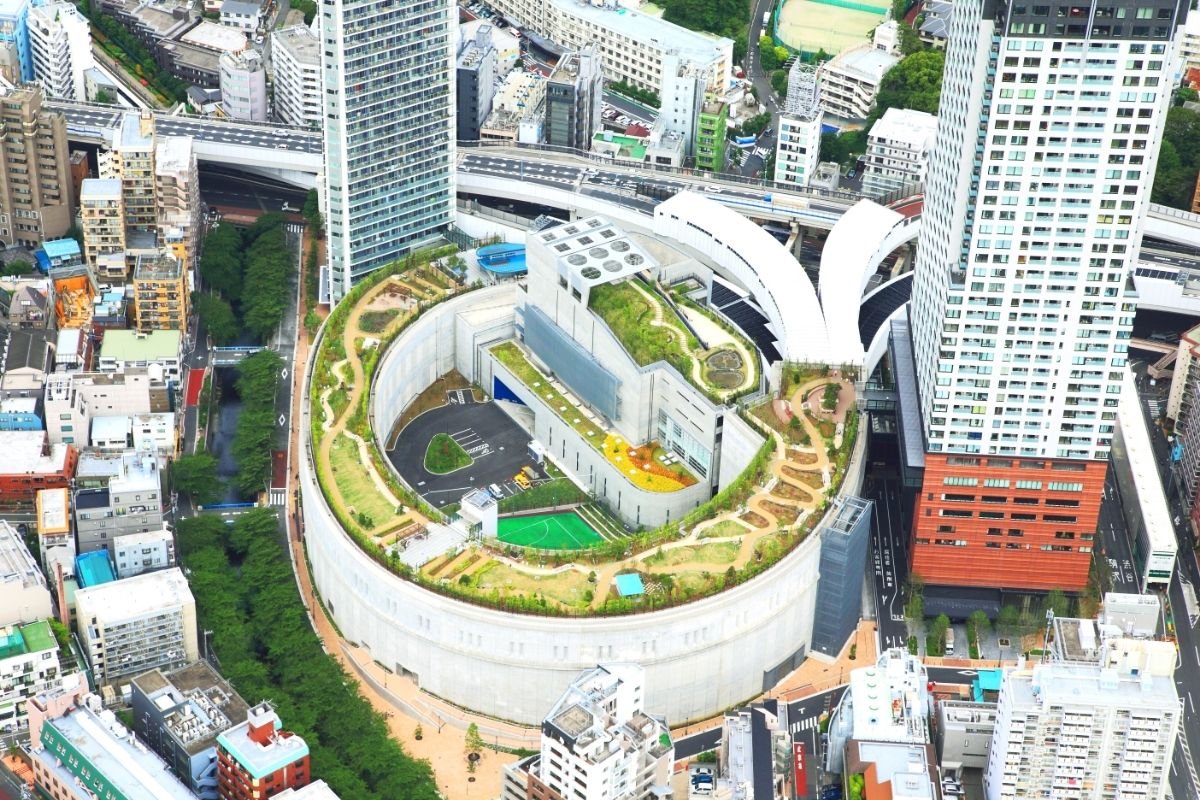 If you're a fan of quirky architecture you'll love Meguro Sky Garden. This is a round rooftop that sits on top of an expressway, and although it sounds like it would be noisy, it's situated in a quiet little neighborhood.
The garden itself is so pretty and it's relatively quiet, which gives you the perfect space to take in the breathtaking views. 
Just head up the escalator to reach the rooftop garden where you'll have a 180-degree view of Tokyo. On clearer days you'll have the chance to see Mt Fuji in the distance, and directions in the garden for which direction you should look in. 
Tokyo Plaza Omotesando / Harajuku 
This is one of the easiest places that you can see Mt Fuji from and it's right in the center of the city! If you're traveling to Tokyo you probably already have Omotesando and Harajuku on your list of places to visit. 
Well, if you head into Tokyo Plaza – make sure you check out the insanely fun mirrored escalators – head to the very top. Once there you'll find an insanely busy Starbucks alongside a stunning rooftop garden.
Although the view of Fuji-san isn't as spectacular (as you have to peek through some buildings to see if – it is completely free to head up to the rooftop. 
Why not grab yourself a coffee and watch the sunset over Tokyo and Fuji-san? 
Futako-Tamagawa Rise 
This may be out of the way for the average Tokyo tourist, however, it's such a cute part of the city, and a lot of locals live, work, and hang out there.
It's one of the most expensive residential areas in the city, but their boast would have to be the giant shopping area built onto the train station. 
At the top of the mall, there are two different rooftop viewing areas, and you can see Mt Fuji from both! 
Hokutopia 
If you're always keen to check out the arts and culture of a city that you travel to, Hokutopia should be on your list.
This is a 17-story cultural facility that is pretty close to JR Oji train station. And as building with that many stories, you can imagine just what stunning views you can find. 
On the clearest of days, there's a beautiful view of Fuji-sun from the Sankaitei restaurant. Why not relax with an exceptional meal as you gaze out at the sun setting over the mountain? 
There are also several other facilities in the building you can check out, with each teaching you more about the wonderful Japanese culture.
Unlike the other places we've mentioned so far, it does cost money to visit any of the attractions in Hokutopia, so it's worth bearing in mind. 
Kasai Rinkai Park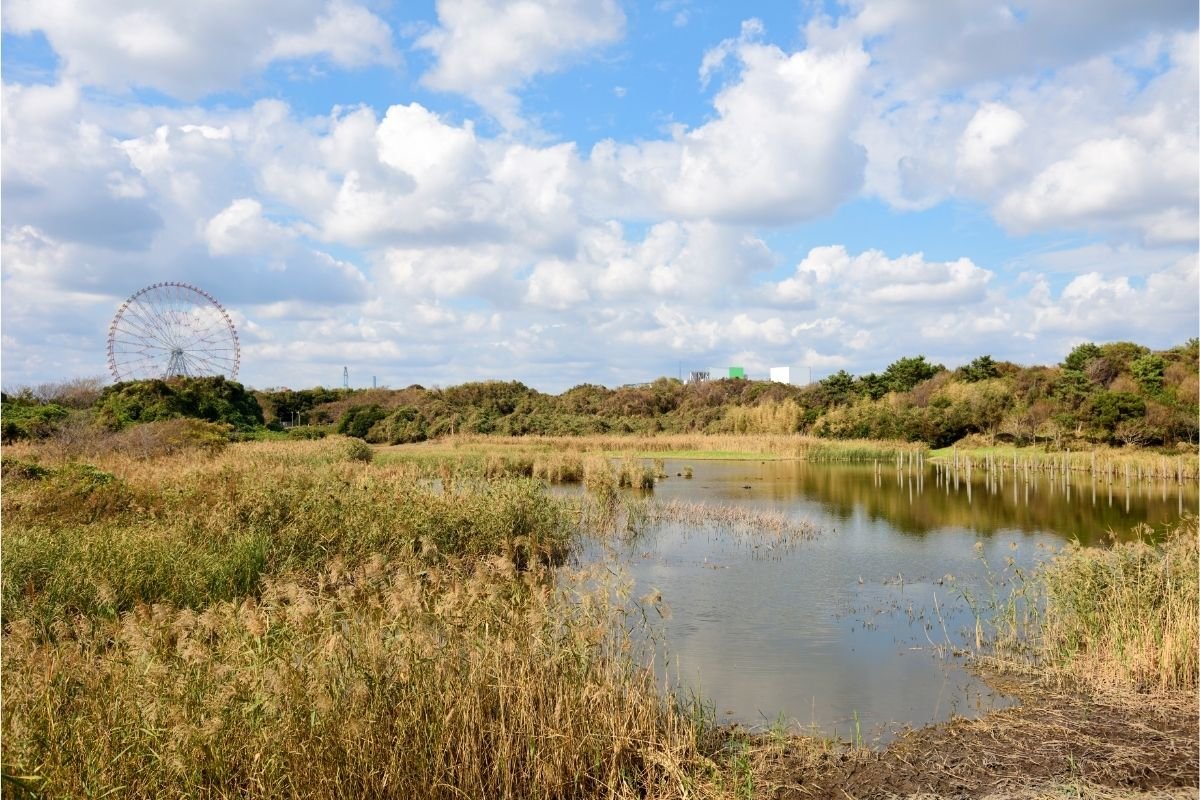 This is a stunning aquarium and sea life park found on Edogawa Ward, facing Tokyo Bay. On sunnier days this park has an exceptional view of Fuji-san, which is unobstructed by any of the colossal skyscrapers in the city. 
It's worth visiting this place at sunset, as there's a clear shot of the setting sun as it disappears behind the mountain's summit.
Nicknamed "Diamond Fuji" because of the way the sun glitters behind the mountain, the ferris wheel within the park is also a great place to watch this wonder. 
Fujimi Terrace 
Fujimi Terrace is arguably one of the best places to see Mt Fuji in Tokyo and was actually chosen as one of the top 100 views of Mt Fuji in the Kanto Region. 
It's worth visiting Fujimi Terrace especially around Christmas (18th, 19th, and 25th December) as this is when the sun is perfectly positioned over Mt Fuji, and where you'll get to see "Diamond Fuji" in all its glory. 
Fuji Terrace attracts tourists, visitors, and photographers from far and wide, especially as entrance to the Terrace is completely free.
You can also get to the terrace directly from Higashikurume Station, which is another part of Tokyo you should visit. 
Not only do you have a spectacular view of Fuji-sun, in Higashikurume city you can find the Ochiai River and the Minamisawa Springs, which are beautifully conserved waters. 
Final Thoughts 
There you have it, some of the best places in Tokyo city in which you can see Mt Fuji. What's great about these places is that almost all of them are free too!
So if you're on a budget you still have plenty of options as to where you can catch a glimpse of Fuji-sun. 
It's worth noting that the best time of year to check out Mt Fuji is during the winter months. This is when the skies tend to be the clearest, and when Fuji is decorated with its iconic snowcaps. 
Happy Mt Fuji hunting!
Latest posts by Aura Ruggeri
(see all)