Japan is a beautiful country with many different amazing hiking trails. These trials will lead you across many different amazing landscapes from beautiful mountain ranges to other incredible landscapes.
If you are an avid hiker then Japan is a must-visit country! It is a perfect place for amazing outdoor living and there are endless trails to try out.
Even if you have visited the country before, there will always be something new to see and you will never grow tired of the beautiful country!
So, if you're looking for some beautiful clean air, some great exercise and some amazing views, read on for some of the most beautiful hiking trails in Japan for you to try out!
Beautiful Japanese Hiking Trails
This article will explore some of the best hiking trails in Japan. Whether you're looking for multi-day hikes or shorter hikes, there is something on this list for everyone.
This article will also explore some easy treks and some more difficult ones. Let's dive in!
1. Mount Nokogiri
This is located in the Kanto region in Japan. This area is located near to Tokyo as this is a very popular tourist spot.
This is an amazing hike that is located on the Boso Peninsula in Chiba Prefecture. This hike is around 10 km in length and it will take at least 90 minutes to walk this course.
As it is not a particularly long course, it is considered to be an easy walk. This mountain is perfect for those who love to get out into the great outdoors and climb a mountain!
This area attracts pilgrims and other outdoor enthusiasts. While you can choose to drive up to the top of the mountain, the hike is definitely the better option!
From the top you can choose from a few different paths and they all lead you past different sights.
2. Kamikochi National Park
This national park is situated in Nagano Prefecture. It is about 4 km in distance, but it is expected to take you a full day. This is because there is so much to see in the park.
You can even opt to stay overnight in this park if you would like to do some more hiking in the area.
In the national park, there are hundreds of different hiking trails for you to choose from. Each one ranges from easy to difficult and they will range in length, too.
If you would like to participate in one of these walks, you will need to ensure that you have a map to follow.
This is a beautiful national park in Japan consisting of viewpoints, valleys, rivers and other amazing sites!
3. Mount Tate
Mount Tate is another beautiful place to go hiking in Japan. It is located in the Chubu region in central Japan. This area is very mountainous meaning there are lots of different mountain hikes to enjoy in the area.
The hike around Mount Tate is about 6 km in length and it will take the average walker about 3 hours to complete.
While it is quite a short walk, it is actually fairly challenging. This is because the peak of the mountain is at 3015 meters in height. This really is a walk in the clouds!
On this hike, you will experience amazing views over Toyama City. The sea is on one side and the Hida mountain range is on the other.
On this hike, you will find that the first part is very easy to complete, but it will turn into a difficult climb as you reach the peak of the mountain.
There is only one trail leading to the peak, so you will need to come back the way that you came.
4. Kumano Kodo Pilgrimage Trail
This trail is located on Honshu island. It is in the Kansai region of Japan. This is a very cultural area.
The pilgrimage trail is definitely one that you won't want to miss! It is a very long trail in which you can travel from one place to another along a 50-70 km trail. You can opt to walk as much or as little of this trail as you like.
This is an amazing experience to have while you are in Japan. It winds through the amazing mountains in this area.
You will experience mountains, villages and forests as well as many other amazing natural experiences. On the hike, there are lots of guesthouses for you to stay in along the way.
5. Mount Yoshino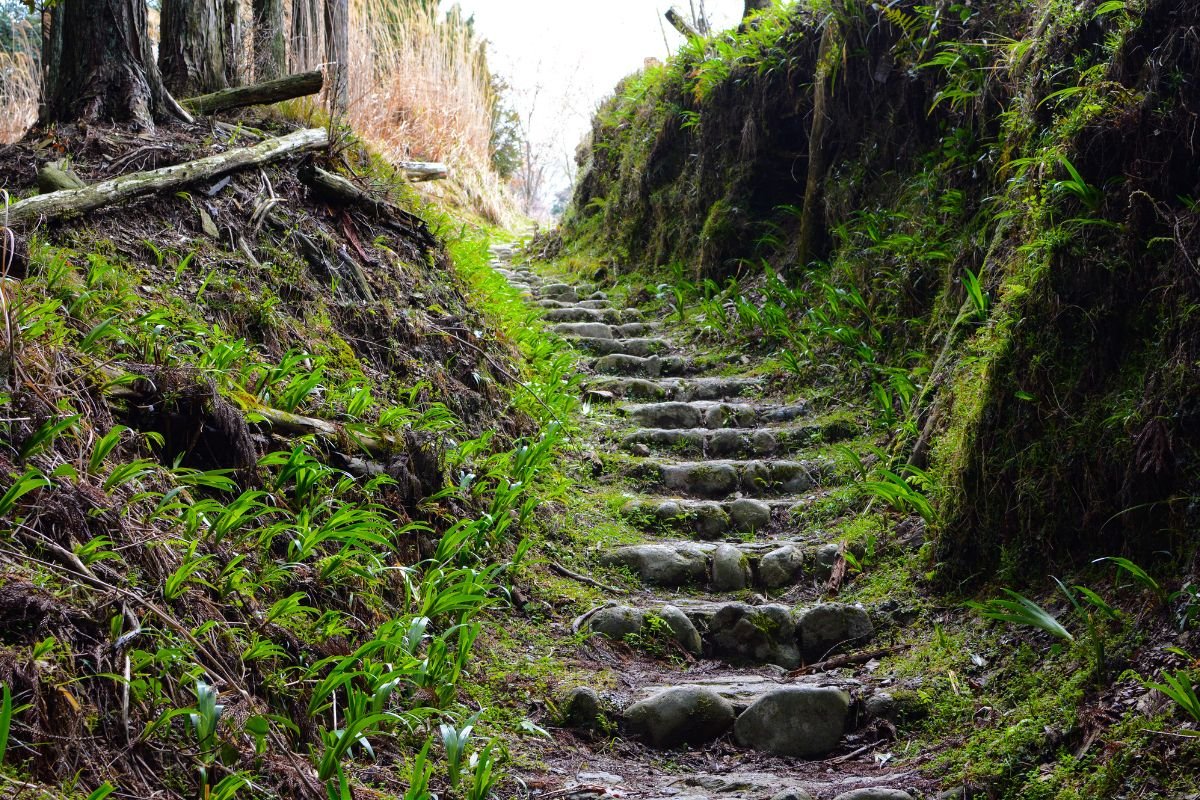 Japan is very famous for its amazing cherry blossom trees. On this trial, you will experience one of the best places to view cherry blossoms in the country. It has been known as this for centuries and you will not be disappointed with the view!
No matter what time of year, though, this hike is absolutely beautiful. The route will take a few hours to complete but it is fairly easy.
On this amazing walk you will also experience some of the beautiful villages in the area and some amazing temples along the way.
This is a very famous trial and if you are looking for some classic and beautiful Japanese landscapes then it is definitely the trail for you!
Important Information About Hiking In Japan
There are lots of things that you should know before you start your hikes in Japan. These include:
Ensure You Know How To Get To The Hiking Trails
It is a good idea to make sure that you are aware of the necessary transportation to get to the hiking trail that you have chosen.
Japan is a very easy country to get around due to the fantastic transportation system. You will likely take a combination of buses, boats and trains to the beginning of your hiking trails.
It is a good idea to use the Japan Rail Pass in order to travel throughout the country.
Stay Hydrated
It is very important to make sure that you have a reusable water bottle with you. It can be difficult to find somewhere with water along some of the trails on the list so you should make sure that you always have some with you.
Bring A Sturdy Backpack
You should also bring a sturdy backpack along with you. It is important to ensure that you have a bag that can support the weight of what is inside and provides support to your back,too. It is a good idea to have a day backpack for you to carry the essentials in.
Walking Shoes
It is also important to wear hiking boots or walking shoes when you are hiking. It is important to wear waterproof shoes if you are hiking during a period when it may rain.
You should also make sure that the shoes that you choose are comfortable and easy to wear.
Dress Appropriately
Make sure that you are dressed appropriately for the weather. If it is going to rain, you will need to make sure that you are dressed for the weather. Take an umbrella and rain clothing for this time of year.
If it is warm, make sure that you are wearing lightweight clothing so that you don't get too hot.
Get Insurance
You should always make sure that you have the appropriate insurance before you head off on any trip.
On a hiking holiday, this will have to be very specific insurance. If you need any medical assistance during this trip then this will ensure that you are covered in this instance.
Hiking Poles
Not all hikers bring hiking poles with them as some of the trails may not require them.
If you are on a steeper hike then hiking poles are a very good idea as they will take the stress off your knees. This will help you to remain safe and balanced during the hike.
Don't Litter
In Japan there are no trash cans in public areas. On hiking trails, this will also be the case. This is why it is important to ensure that you carry any trash with you and make sure that you dispose of it correctly whenever you can.
You should never litter on the beautiful landscape as this will ruin it for others.
Frequently Asked Questions
Where Are The Best Places To Go Hiking In Japan?
Japan has hundreds of different beautiful hiking sports for you to enjoy across the country. There really isn't one specific place to find Japanese hiking trails as there are amazing ones all the way across the country.
This article has explored some of the best hiking trails in Japan!
Final Thoughts
This article has explored 5 of the most beautiful hiking trails in Japan. If you are looking to go on a walking trip to this incredible place, then consider some of the hikes listed in this article.
There are endless amazing trails to follow in this beautiful country so don't stop there! Keep searching for beautiful hikes in Japan.
Latest posts by Aura Ruggeri
(see all)