Learning crafts is a great way to spend your free time and allows you to learn all kinds of skills.
In particular, crochet and knitting are among the most popular crafts in the world thanks to the array of projects that you can complete, from clothing to blankets to toys. Nothing is off-limits when it comes to these crafts.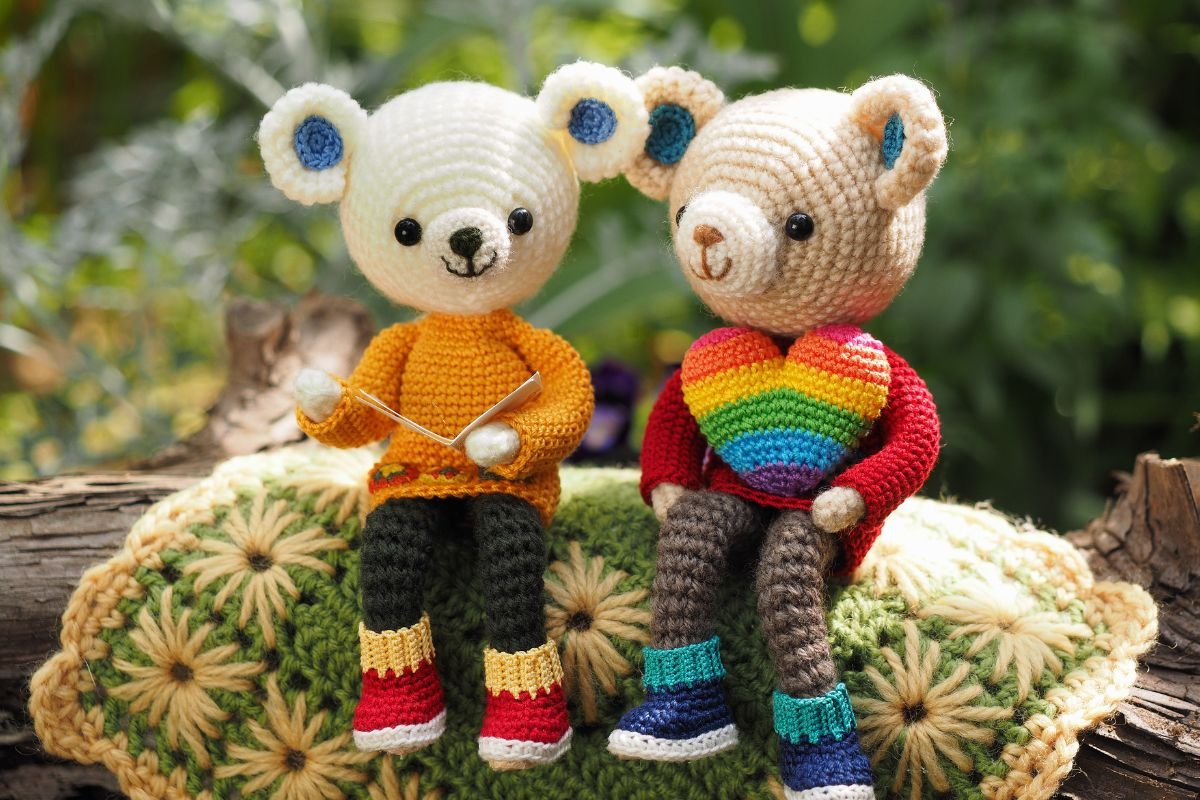 What is great about crocheting and knitting is that there are all sorts of projects for all skill levels, so whether you are a beginner or have been crafting for years, there are always projects on hand to challenge you and help you learn even more.
Amigurumi is a type of project that is usually crocheted but can also be knitted and has grown in popularity in recent years thanks to the scope of projects that you can do.
If you want to make your own gifts for family and friends or open up a crafting shop, then amigurumi can be an avenue for you to explore.
In this guide, we delve into the world of amigurumi and tell you everything you need to know when it comes to this craft.
From what amigurumi actually is to the various tools that you will need, you'll be a master of amigurumi in no time.
No matter whether you have been crafting for years, or have never picked up a crochet hook in your life, you'll be able to benefit from this guide.
What Is Amigurumi?
So, what even is amigurumi? Amigurumi is a style of craft that is mainly crocheted but can sometimes be knitted.
Amigurumi projects are defined by their cute styles and are plushes of animals, creatures, or characters among much more.
The craft originates from Japan, which is where the name comes from "ami" which means crocheted or knitted, and then "nuigurami" which refers to a stuffed doll.
The style of amigurumi tends to be "kawaii" which means cute and these plushes make a great idea as gifts for your nearest and dearest.
Amigurumi developed in popularity in the 2000s as it became more commonplace in the West thanks to sites such as Pinterest and Etsy as the crochet and knitting community helped spread the influence of amigurumi.
You will find that many crafters sell the amigurumi projects already completed, or you can buy a pattern from designers, so you can make your own special project.
What Do I Need To Complete An Amigurumi Project?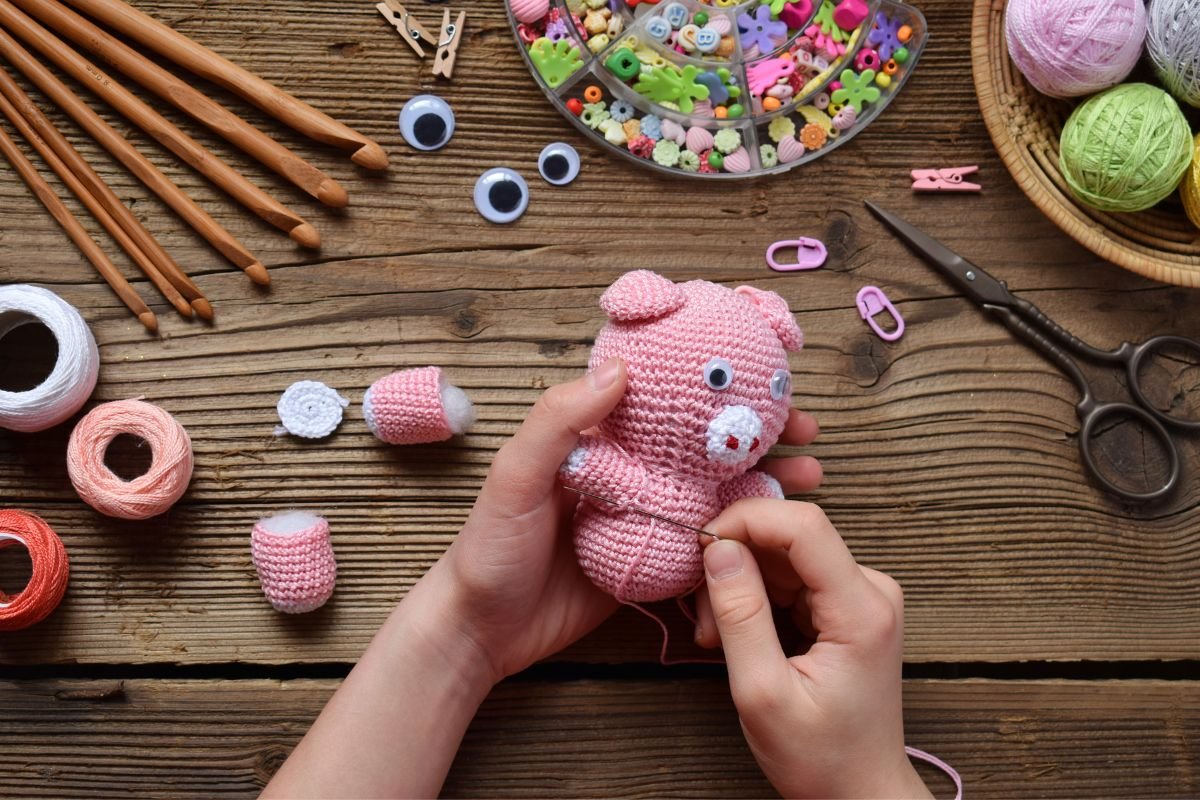 Before you begin your amigurumi project, you will need to make sure that you have the supplies needed to complete the project properly. If you are following a pattern, this should come with a list of supplies that you will need.
Having knowledge of the basic stitches such as the single stitch, double stitch, and invisible decrease will be beneficial as these are often used in amigurumi projects.
Here are some supplies and tools that you will need to have before embarking on your project:
Crochet hook (the size of the hook will be stated in the instructions)
Yarn (most patterns will specify the yarn that they used for the project, however, so long as you choose a yarn of the same weight, this shouldn't be an issue. Most amigurumi projects are made from cotton, semi-cotton blend, or acrylic yarn)
Stuffing (this is essential as it will fill out your plush)
Additional supplies such as pipe cleaners and pebbles are sometimes handy to have. This is because pipe cleaners can help your plush maintain its pose, while small pebbles can help to evenly distribute the weight of the plush.
Where Can I Learn Amigurumi?
You can learn amigurumi through various mediums. Most people learn amigurumi by watching YouTube videos, but there are other sites such as Skillshare which have some classes where you can learn the basics.
For those who like to follow specific instructions, there are books available that provide plenty of patterns as well as written and visual instructions, so you can work at a pace that suits you.
Regardless of your skill level or ability, you'll be able to learn amigurumi in a way that is best for you and is going to give you the best results.
Frequently Asked Questions
What Is The Difference Between Crochet And Amigurumi?
Amigurumi is the name of the type of project that is given to plushes of cute animals, creatures, or characters among much more.
On the other hand, crochet is the type of craft that is used to make amigurumi projects. Amigurumi tends to be made using crochet, but there are instances where these projects are knitted.
Is Amigurumi Beginner-Friendly?
A common question that is often asked regarding amigurumi is whether it is suitable for beginners.
The great news is that there are plenty of amigurumi projects that can be completed by beginners as they only contain basic stitches.
Projects such as amigurumi whales are a great choice thanks to their simple round shape, while also requiring the crocheter to make the tail and fins.
How Long Does It Take To Crochet An Amigurumi?
The amount of time that it takes to crochet an amigurumi is dependent on the project itself and your skill level, among other factors.
However, the most basic projects can take as little as an hour or two to complete, while more complex projects that require multiple parts take an average of six hours.
If you are crocheting an extremely complex design that is made up of numerous stitches and patterns, then it can take even longer.
Conclusion
In conclusion, amigurumi is a great craft for those who love to be creative and have always wanted to learn how to crochet or knit.
What is great about amigurumi is that there are no limits to creativity, meaning that you can try any kind of creature or character that is best suited for your skill level.
There are an unlimited number of projects that cater to all kinds of skill levels, meaning that whether you are a beginner embarking on their first project, or an advanced crocheter looking for a new challenge, amigurumi is the best area for you to delve into.
Latest posts by Aura Ruggeri
(see all)