Both Shinto and Buddhism are interwoven in Japanese culture and daily life. The temples and shrines of Japan are an integral part of daily life. As some have of the most profound and extensive histories in the world. 
Visiting temples and shrines in Japan is a significant historical exploration and means of understanding both the religious and cultural components of the country.
There are countless beautiful and significant shrines across the nation you could see.
In this article, we have collected together 7 beautiful Japanese shrines that we believe you should visit. 
Chureito Pagoda
The Chureito Pagoda is undoubtedly one of the most stunning shrines in Japan. It is a popular destination for travelers looking for the perfect Instagram shot.
The Pagoda is situated in Arakurayama Sengen Park and has the famous peak of Mount Fuji as its backdrop. 
Reaching the top requires climbing about 400 steps, but the view is worth the effort. It's worthwhile getting up early to beat the masses of people visiting and take in one of Japan's best views.
Address: 3360-1 Arakura, Fujiyoshida 403-0011, Yamanashi Prefecture.
Fushimi Inari
Fushimi Inari Shrine is one of Japan's most stunning shrines. It is arguably among the most popular and famous shrines in the entire world.
Fushimi Inara, a shrine in Kyoto, is well-known for its tens of thousands of torii gates leading up to the shrine and its breathtaking mountain trek. 
Furthermore, Fushimi Inari is also famous for its foxes, in addition to its recognizable red gates. Fushimi Inari can become very congested because of the vast number of people, both locals and visitors, who come to visit.
However, it is worthwhile hiking around 4 km to the summit, where the environment is considerably quieter and less crowded.
The Fushimi Inari Shrine has served as a place of worship for around 1300 years. Therefore, it is a shrine not to be missed.
Address: 68 Fukakusa Yabunouchicho, Fushimi Ward, Kyoto, 612-0882, Japan.
Kiyomizudera
Kiyomizudera, located in eastern Kyoto, is a UNESCO World Heritage Site and one of the Ancient Kyoto Historic Monuments. The Buddhist temple, which dates back to the year 780.
It is situated atop the Otowa Waterfall and is famous for both the temple itself and the wooden balcony that protrudes over the falls. 
The name Kiyomizudera, which translates to "Pure Water Temple," refers to the magnificent waterfalls. The sight from the overview includes the city of Kyoto as well as cherry blossoms, maple trees, and waterfalls beyond the falls. 
In addition to being one of Japan's most stunning shrines, Kiyomizudera is one of the top locations to go while the cherry blossoms are in bloom.
Address: 294 Tatsumichi, Higashiyama Ward, Kyoto, 605-0862, Japan.
Kumano Nachi Taisha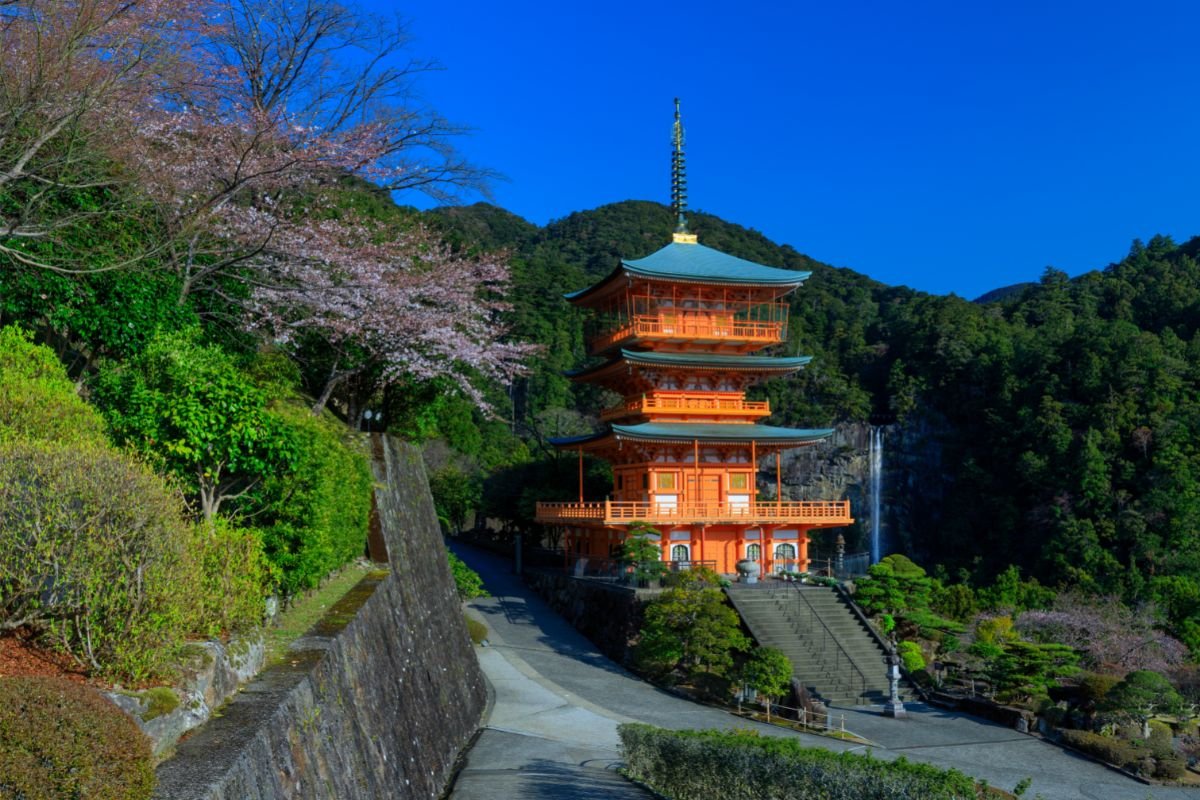 Kumano Nachi is a Shinto temple and one of the most stunning shrines in Japan. It is considered a UNESCO World-Heritage Site. In addition to being prominently one of the pilgrimage routes in the Kii highlands.
It may be located in the Kumano region, in particular in Katsuura, and is one of the three Kumano Shrines. 
Nachi Taisha and Seigantoji, two of Japan's biggest and most impressive waterfalls, are also not far from Kumano Nachi. Visit Kumano Nachi, which offers an insightful glimpse at the blending of Buddhist and Shinto traditions.
Address: 1 Nachisan, Nachikatsuura, Higashimuro District, Wakayama 649-5301, Japan.
Meiji Shrine, Ueno
One of the most significant shrines in Tokyo is the Meiji Shrine. It is devoted to Emperor Meiji, who passed away in 1912 after presiding over a time in Japanese history when the nation made a name for itself to the outside world.  
More than 100,000 trees in the extensive woodland that encircles the main building were donated by the public. A sacred music hall, treasure museum, art galleries, and a martial arts training facility are also located in the core compound. 
It feels unusual to be in the center of a city and be wandering through such a beautiful and picturesque woodland and shrine. 
Address: 1-1 Yoyogikamizonochō, Shibuya City, Tokyo 151-8557, Japan.
Kinkakuji – The Golden Pavilion
Kinkaku-ji, also known as Rokuon-ji, is a breathtakingly magnificent golden temple in Kyoto. Furthermore, it is one of the most popular and frequently visited temples in all of Japan.
An eye-catching Japanese strolling garden surrounds a Zen Buddhist temple that looks out over a mirror pond. It is without a doubt one of Japan's most stunning shrines, as well as being extremely well-known.
In addition to being a National Special Landscape, Kinkakuji is a National Special Historic Site dedicated to the preservation of history. The building's original use was to accommodate the retiring shogun Ashikaga Yoshimitsu in 1397. 
It was then transformed into a Zen temple in 1408. Due to this shrine's popularity, it is also advised to arrive early in order to beat the crowds and take a peaceful stroll across the grounds.
Address: 1 Kinkakujicho, Kita Ward, Kyoto, 603-8361, Japan.
Hatonomori Hachiman Shrine, Sendagaya
In the Sendagaya district, close to Harajuku and Shinjuku Gyoen, lies this Shinto shrine devoted to the warrior god Hachiman. 
Despite being one of the smallest shrines, Hatonomori Hachiman Shrine is not only a beautiful and serene retreat in the busy heart of Tokyo. Yet, it also possesses two special characteristics. 
The first is the stage of the Noh theater, where practice performances are occasionally visible from the outside of its glass box. The fujizuka, a 6-meter mound designed to resemble Mount Fuji, is the second feature.
While climbing this fujizuka, you will still receive blessings and have the option to visit smaller shrines along the way.
Address: 1-1-24 Sendagaya, Shibuya City, Tokyo 151-0051, Japan.
Conclusion 
There you have 7 beautiful Japanese shrines we believe you need to visit. They are all picturesque places that will provide you with beautiful memories and give you a deeper insight to the culture and traditions of Japan. 
Latest posts by Aura Ruggeri
(see all)